Roller Skates

Roller Skates and Disco went hand in hand in the 70's, it wasn't just for car hops in the 50's.  Recently revisited in the movie "Boogie Nights" with Heather Graham as the Roller Girl also starring Burt Reynolds playing Jack Horner, a sleazy porn star director and Mark Wahlberg portraying Eddie Adams aka Dirk Diggler, a porn star, who had a triumphant rise and tragic fall as the advent of video tape changed the movie world (especially the porn industry) completely. Guys eyes popped out of their head with the nudity from Heather Graham and Julianne Moore but the last thing you seen as the movie closed was an enormous member whipped out by Dirk.
I know I am straying off topic a bit, but isn't that typical of me?
This was Roller Girl's favorite song:



Were you expecting me to show Dirk's dong?  Not sure if this page is long enough?
I can hear the song now back in the days (1980 to be exact) when I would lace up my skates at the roller skating rink.  I was getting better at roller skating, the big thing for me was the skating backwards deal.  I wasn't quite ready to do a triple salchow (pronounced sow cow) like Tonya Harding would perform on ice.  I had my days of splitting my head open while Ice Skating, I figured the wood floor would be a softer landing… nope! 


In popular culture Roller Skating was seen in the movie Xanadu with Olivia Newton-John, Roller Boogie with Linda Blair and many many more movies.  Roller Skates has been around for a long long time, in fact it was invented in 1743.  Although back then some of the designs were quite humorous…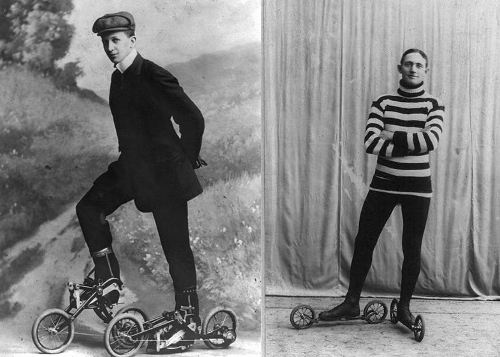 Roller skates have evolved like the cell phone now smart phones.  The skates I remember most had thick colorful rubber wheels with bearings.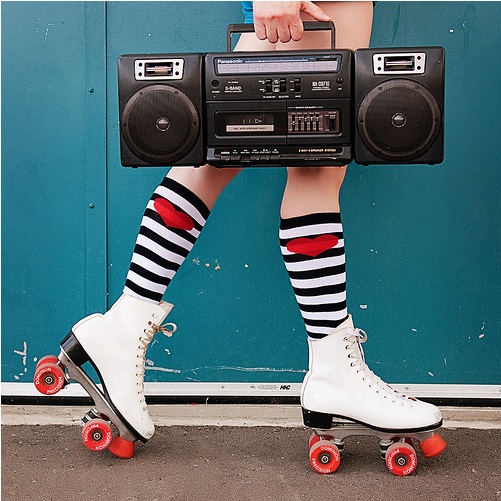 Today, people associate skates with inline skates (all 4 wheels in the middle) and you need to have a Justin Bieber hairdo aka the "skater haircut".
I love wearing Van's shoes with the checkerboard design because you just slip them on and it reminds me of Jeff Spicoli from the movie Fast Times at Ridgemont High.   My daughter is embarrassed claiming "Only skaters wear them Dad, you're too old!"  Bah!  Old people hate laces, what is worse is the 2 Velcro strip deal, so the best option is the slip on style.
Strayed again off topic – I think my days of roller skating is over, if anyone was to see me on skates, they would think they were filming Jackass Part 6.  At the very least, a spectator would be recording me on their smartphone and I would wind up on TV again, this time "World's Dumbest", where Tonya Harding would be cracking jokes about me.
For me the best memory of Roller skates on TV was "Roller Derby".  I never figured out what the purpose of the game was, I figured it was like the fake wrestling you see on TV like Hulk Hogan style.  I think even the Fonz from Happy Days had an episode where he was on a Roller Derby team.  But the best was the women's teams…


I think that Roller Derby Girls should make a comeback and replace the WNBA that nobody watches anyway.
Notice I added a link to the WBNA?  That way, maybe someone would click it and give them their first visitor.